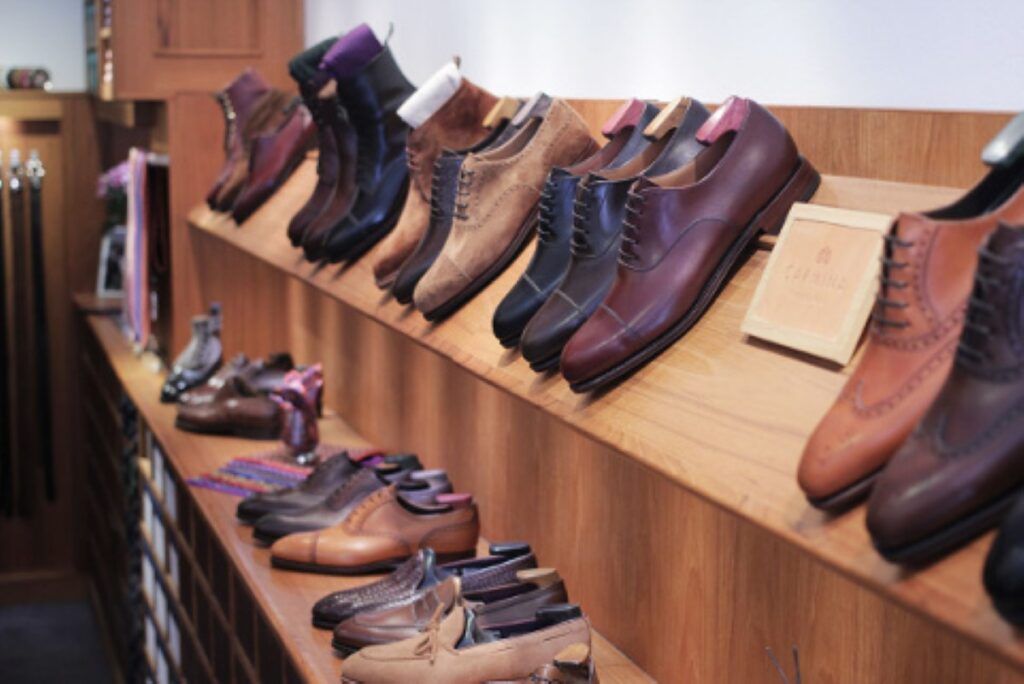 Patrik Löf
Founder of Skoaktiebolaget
---
Skoaktiebolaget is a premium shoe store for men in Stockholm, Sweden. They retail artisan brands such as CARMINA and EDWARD GREEN. Not to long ago they became our customer and produced a boot in our Tooling Sides. We had a chat with Patrik about leather, QUALITY and shoes in general.
Hello Patrik! Tell us about SKOAKTIEBOLAGET?
We're a small premium men's shoe store in Stockholm. We specialize in European crafted shoes, shoe care and accessories.
Describe your relationship to shoes? How did it start and how has it developed?
It started about a decade ago; I got tired of wearing sneakers and crappy shoes. So I found this English shoemaker that makes hand crafted shoes and then I was hooked. The feel of great craftsmanship is so rewarding as a customer, especially when you know how much work that goes into a pair of well-made shoes. These days, I live shoes, I think about them around the clock, I dream about them, and I'm always looking for inspiration for new styles.
What separates a good shoe from a….shoe? Is it material or craftsmanship?
First of all the leather must be good, but good material and bad shoemaking won't make for a good pair of shoes or boots, it has to be both. Good leather will age beautifully, and a well-made pair of shoes in good leather will last for half a century if taken care of properly.
Quantity over quality has been the leading priorities for the general consumer of products in general. Would you say that is changing, as tendencies suggest?
I think that is changing rapidly. There's a growing awareness about sustainable products that has been catalyzed by a surge for classic menswear and traditional European craftsmanship. The mindset is changing and it is moving people from budget to quality because most people have come to accept that quality pays in the long run. We have young guys coming into the store that are 19-20 years old and buy our shoes because they know it's an investment. It's actually worse with people my parent's age. They are usually just looking at the price tag instead of the product.
Do you see an increase in quality awareness from your customers?
Definitely. We talk a lot about quality and craftsmanship in our store but we never try to push clients in a direction, their curiosity drives them there sooner or later. The more you know about a product, the more it inspires awareness and the will to try products even higher up in the premium segment.
What is your typical customer looking for?
Our typical client is a denim wearing man in his mid-twenties to mid-forties. You'd think we would have mostly businessmen as clients given the price point of our products, but as I said before, it's not so much about the price tag anymore, it's the product itself. We focus a lot on casual styled shoes and boots, shoes that you can wear with anything, not just a suit. Our main goal when a client walks into our store is to find them the last that fits them the best. Fit is everything.
How did you first come in contact with Tärnsjö Tannery?
I think it was through a furniture store in Stockholm. I was admiring some leather details on a cabinet, I'm into leather what can I say, and the owner told me it was from a tannery near Uppsala. So I contacted Thomas and he invited me to take a tour of the factory and see how everything was made from scratch. During my visit he told me about the philosophy of Tärnsjö, the positive environmental aspects of vegetable tanning and what sets Tärnsjö apart from chrome tanning suppliers. I was really impressed and felt I had to seize the opportunity to work with Tärnsjö.
Tell us about your experience with Tärnsjös Leather.
The leather we chose to make our boots from is very thick compared to normal bovine hides used in shoe production. It gave the craftsmen at the factory a bit of a challenge, but they are used to working with Cordovan which is also very thick so they got used to it quickly. The natural grain of the sides we used was perfect for the type of boots we had in mind and the boots actually sold out in less than a week. I think our clients very much appreciated that we sourced materials from a Swedish tannery with an environmentally friendly philosophy.
Tell us about the product made in Tärnsjö Leather?
We made up a sturdy winter boot in the leather from Tärnsjö. We also used shearling lining (not from Tärnsjö) to make the boots even more adapted for winter. The sides we used were not finished in any color so we added a bit of finish in the factory to give the leather some extra depth. The result was an awesome, beautiful but still practical boot.
Do you intend to make more styles in Tärnsjö Leather?
Yes, we have a couple of more styles in Tärnsjö leather coming soon. We are using the same kind of leather we used for our winter boots.
Who, in your mind, produces best value for money when it comes to traditional shoes for men?
That's a very tough question. There are many makers out there producing affordable, high quality shoes. But I'm going to say Carmina Shoemaker. The quality you get for their price level is very hard to beat.
Finally, what are your ambitions AND visions for SKOAKTIEBOLAGET?
Our ambition is to become the most renowned premium men's shoe store in the world, where attention to superior quality and customer service will always reign.